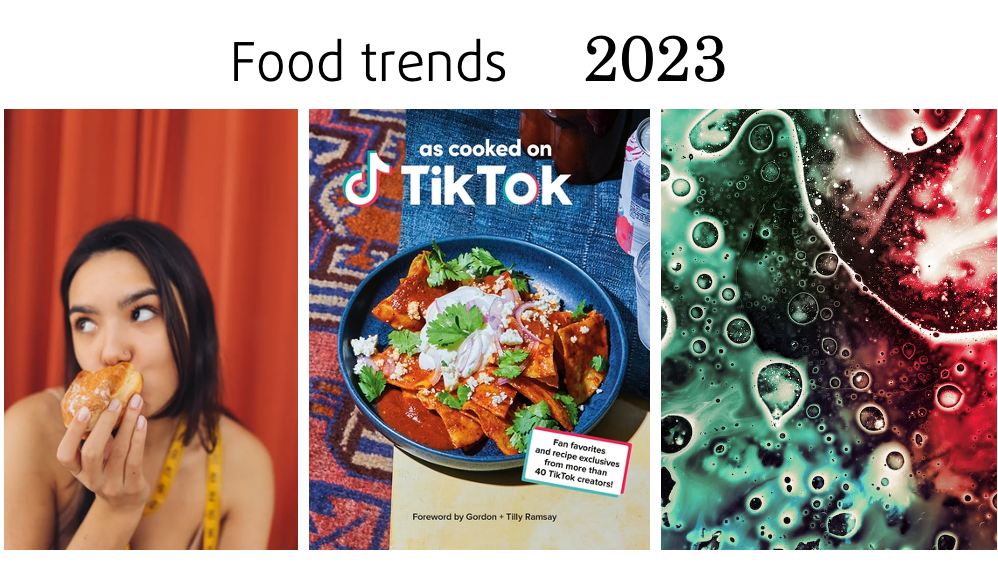 De Food trends voor 2023
Ieder jaar schrijven food trendwatcher Marielle Bordewijk en haar bureau Food By Design een blog over de food trends voor het komend jaar en de jaren erna. Voor 2023 geven we ook graag een doorkijkje. Geïnteresseerd in het hele trend verhaal en alle food trends 2023? Boek dan een inspirerende trendpresentatie of trendconsult en gebruik deze als startpunt voor food innovatie.
food trend 1 #Eggtastic
Naast melk, staat ook de toekomst van 'het ei' grote veranderingen te wachten. Eieren zijn wereldwijd altijd een populaire voedingsbron geweest. Makkelijk te bereiden en een bron van hoogwaardige eiwit. Ook is ei een makkelijke eerste stap als men minder vlees wil eten denk aan gerechten als gado gado en Shaksuka, waar het ei een natuurlijke hoofdrol pakt. Het ei heeft een aanmerkelijk kleinere footprint dan vlees. Ei is én zal dus een belangrijke voedingsbron blijven. Echter met het toenemende belang van de eiwittransitie, zien we ook steeds meer plantaardige ei-vervangers hun intrede doen. Van scrambled tofu, ei-vrije mayonaise tot aqua faba, dat opgeklopt eiwit kan vervangen. Met dit bonenvocht kun je plantaardige meringues maken zoals je dat ook met ei-eiwit kan. En zo circuleren op social media vele hacks die ei qua voedingswaarde, smaak en textuur simuleren. Een voorbeeld is Kala Namak, dat is een zout met een zwavelachtig aroma, dat zich goed leent om een ei-achtige smaak te creëren. Vegan ei is een belangrijke ei trend voor 2023. Vegan sunny side-ups woekeren vrolijk op instagram en plantaardige patisserie is ook bezig aan een stevige opmars getuigen bijvoorbeeld vegan patisserie zaken VG patisserie en le Corner des patissiers in Parijs. De vervanging van eieren is daarbij cruciaal.
food trend 2 #Energiezuinig koken
We kunnen er niet om heen, de gasprijzen rijzen de pan uit. Consumenten zijn wereldwijd kritisch aan het kijken naar hun eigen energiegebruik en willen graag besparen waar mogelijk. Energiezuinig koken zal een belangrijke food trend zijn voor 2023 en de jaren erna. Kortere bereidingstijden en liefst zonder gas, worden belangrijer dan ooit. Urenlang sudderen wordt een luxe. De komende jaren zal elektrisch koken de overhand krijgen. Gasfornuizen zullen vervangen worden door convectie kookplaten. Maar met of zonder nieuwe kookplaat, kooktijd en energieverbruik zullen bij de keuze van een gerecht een rol gaan spelen. Recepten met korte bereidingstijden zullen populairder worden denk aan roerbakken. Ook zal er vaker gekozen worden voor kleine apparaten. Denk bijvoorbeeld aan het opwarmen van pitabroodje in de broodrooster ipv de oven. De magnetron en airfryer zijn ook bereidingen die relatief energiezuinig zijn als je ze vergelijkt met de oven of met de frituur. Daarnaast zijn er natuurlijk vele tips te bedenken zoals minder pannen, precies de goede maat pan gebruiken, deksel op de pan etc. Deze energiezuinige invalshoek zullen we terug gaan zien in de keuze van onze keukenapparatuur, kookboeken, recepten maar ook in kant-en-klare producten denk aan hartige snacks, kant-en-klare maaltijden en afbakbrood.
food trend 3 #Metabioom
Micro-organismen krijgen een steeds grotere rol in ons eten en drinken en de wijze waarop het tot stand komt. De laatste jaren zagen we al dat fermentatie trending werd, vanwege de rijke smaak en onze darmgezondheid. Maar het gaat veel verder. Ook in de landbouw begint hun rol in de aarde, het water en de lucht steeds meer erkend te worden. Zoals de bacteriën een rol spelen in de darmen van zoogdieren hebben ook planten interactie met bacteriën in de direct omliggende aarde. Dit wordt wel de rizosphere genoemd. Steeds meer landbouwkundigen en boeren gaan het belang inzien van een gezonde bodem. Wereldwijd ziet men in dat we naar een landbouw moeten met minder pesticiden en herbiciden die de grond min of meer steriel maken. Biologisch bestrijdingsmiddelen leverancier Koppert zet steeds meer op micro-organismen die de plantgezondheid stimuleren. Ook Chr Hansen creëert bacterie-culturen voor de rizosphere die helpen planten beter te groeien met minder chemicalien. de Amerikaanse Dr Zach Busch is een bepleiter van gezondheid als groter geheel. Hij zegt dat de bacteriën op en in ons, in directe relatie staan met de bacteriën en schimmels in de bodem, in en om de plant. Je zou het één groot Metabioom kunnen noemen. Waar we ons nu voor het eerst bewust van beginnen te worden, maar die de komende decennia een belangrijke bron van ontdekkingen gaat worden met grote gevolgen voor de landbouw en de manier waarop we eten.
food trend 4# Generation texture
Gen Z en Alpha zijn generaties die net hun eerste stappen zetten in de keuken. Veel van hun inspiratie komt van TikTok of beter gezegd Food Tok. Opvallend bij deze recepten is dat de textuur van deze gerechten een grote rol speelt. Of het nu fluffy cloud bread betreft, crispy pasta chips of een romige feta bake. De jongeren gaan voor slimme food hacks die in een handomdraai een 'satisfying' resultaat geven waarbij textuur en mondgevoel een hoofdrol pakken. Een leuke boekentip voor iedereen die niet op TikTok zit is het kookboek 'As cooked on TikTOK'  of in het Nederlands 'Je kookt het op TikTok.
food trend 5 #Do Tofu
Tofu is al meer dan 2000 jaar geleden uitgevonden in China. En hoewel het wijdverbreid is in Azië, zijn Westerlingen nog altijd relatief onbekend met dit super veelzijdige voedingsmiddel. Vaak wordt het geassocieerd met vegans en afgedaan als saaie vleesvervanger. Wie zicht echter verdiept in tofu komt er al snel achter dat niets minder waar is. Tofu is een eiwitbron op zichzelf. Het is geen vleesvervanger, het is net als ei, kaas of vis een eiwitbron op zichzelf. Neutraal van smaak, in verschillende texturen te verkrijgen (zijde, zacht en stevig) en daarmee een ware kameleon in de keuken. Natuurlijk laat het zich goed verwerken in Aziatische gerechten zoals de bekende Mapo tofu, sticky tofu of een stir fry met crunchy tofu (even gewenteld in de Maizena). Maar ook In de Westerse keuken kan het op talloze manieren worden toegepast denk aan quiches, galettes, gehakt, scrambled, in desserts of cheesecake. Bij een goede, verse kwaliteit is de smaak zacht, subtiel en de textuur sappig. Het mist de muffe kartonsmaak die vele vleesvervangers hebben. Bovendien is het laag in calorien, rijk aan eiwit en is het een puur product. Het bevat alleen maar water, sojabonen en een beetje Nigari (magnesiumzout). Daarom voorspellen we dat de toekomst van tofu veel groter gaat worden dan dat deze nu is.
Foto credits Pexels: Nataliya Vaitkevich, Charlotte May, Anni Roenkae, Polina Tankilevitch, Alesia Kozik, Karolina Grabowska